BlackBerry Torch could be a flop for RIM
(Read article summary)
BlackBerry Torch sales have been far from lively since the Torch's Aug. 12 launch. This week, several online retailers slashed the price of the BlackBerry Torch in half.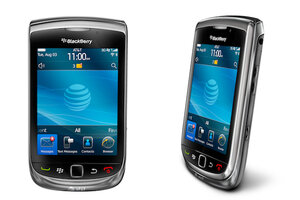 Newscom
When RIM introduced the BlackBerry Torch last week, several bloggers wondered if RIM had finally produced a smartphone capable of taking on the formidable Apple iPhone 4. And why not? The Torch seemed to be a solidly-built smartphone, kitted out with both a touch screen and a physical keyboard, along with the brand new BlackBerry 6 operating system.
As Lance Ulanoff of PCMag.com wrote, "unlike the ill-conceived BlackBerry Storm, there is no ridiculous gimmick in the BlackBerry Torch. Instead, it's the product of a lot of smart, clear-headed thinking about what existing BlackBerry users – like me – want." But over the past few days, interest in the Torch has apparently been tepid, with RIM selling only an estimated 150,000 units.
By comparison, Apple reportedly sold 1.7 million iPhone 4 units within days of launch.
---