Facebook Places: How it works, and how to turn it off
(Read article summary)
Facebook Places lets users announce where they are and who they're hanging out with – whether real or made-up.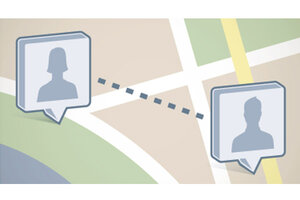 Facebook
An acquaintance of yours – someone you're only 'friends' with on Facebook – asks what you're doing this weekend. You'd rather not hang out with him, so you lie (to avoid any hurt feelings). You'll be out of town, you explain. "Maybe next time."
All clear, right?
Before yesterday, only an awkward run-in or a blabbing friend could give you away. Now, there's a new potential snitch: Facebook Places.
The massively popular social network rolled out a new feature this week that shares your location with Facebook friends and alerts you if a buddy is nearby.
Prepare for all kinds of useful applications and unforeseen consequences. A friend could tag your whereabouts – true or untrue – ruining your white-lie alibi. Facebook could warn you that the acquaintance you're avoiding just arrived at the same party, better think fast. Or, in theory, you could tell Facebook Places that you've hit the beach this weekend, corroborating your story.
Whether Facebook Places will take off has yet to be seen, but one thing has been clear through the first 48 hours of its launch: both using and turning off the feature has been confusing users, reporters, and Facebook alike.
The feature does not fully opt you in to the program automatically, but it also takes a bit of work to fully opt out. Contrary to what Facebook initially reported, you can fully opt of sharing any information – including being tagged by friends – through Facebook Places.
How Facebook Places works
---