Apple rumors roundup: New Nano, better iTunes, or another Apple TV
(Read article summary)
Apple rumors have run rampant today in advance of Wednesday's annual music event. We look at predictions from around the Web.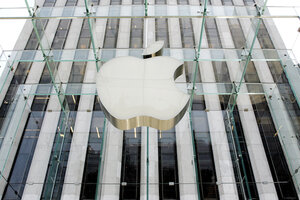 Newscom
On Wednesday, Apple will hold its annual music event – usually an occasion to show off a new piece of hardware, like the rejiggered iPod Nano unveiled last year. So what does Apple CEO Steve Jobs have in store for 2010? Depends on whom you ask. Over the past 24 hours, the Apple rumor mill has lurched into high gear, with bloggers predicting everything from lengthier song previews on iTunes to a new iPod Touch with a camera.
Over at Forbes.com, Brian Caulfield says Apple could be preparing yet another iteration of the iPod Nano, the smallest "full-featured" MP3 player in the Apple arsenal. If Apple does go with a new Nano, Caulfield says, "the clickwheel will likely be replaced by a touch screen." Which begs another question, Caulfield continues, paraphrasing Elmer DeWitt of Apple 2.0: "If the iPod Nano has a touch screen, won't it run iOS? And if it runs iOS, does it support Apps?"
---