Facebook beats Google in one important metric: wasting time
(Read article summary)
Facebook users spent more than 41 million minutes on the social networking site in August. That's good enough to boost Facebook over Google and Yahoo.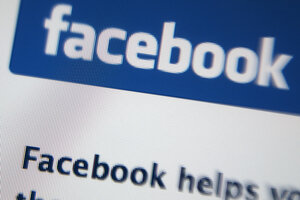 Newscom
Facebook has 500 million users. And now Facebook, already the most popular social networking site in the world, has edged out search giant Google in one very important Web metric. According to analytics firm comScore, in August, American users spent more time on Facebook – 41.1 million minutes – than they did on Google (39.8 minutes, respectively).
Yahoo, with 37.7 minutes, maintained its comfortable third-place position.
A caveat: When we say Google, we're also saying all the Google sites, including Gmail and the movie site YouTube, which makes Facebook's achievement look even more impressive.
"Facebook continues to grow its user base and grow engagement among its users," comScore's Andrew Lipsman wrote in a report released Friday. "A year ago Facebook accounted for less than 5 percent of overall time spent online in the U.S. and today it accounts for 10 percent.... This continued growth presents more opportunity for advertising now, and also more potential to engage its network for new revenue possibilities in the future."
---