Apple iPhone 4 still raises red flags for Consumer Reports
(Read article summary)
Apple iPhone 4 may be selling strongly, but Consumer Reports says users should still beware of the latest iteration of the popular iPhone handset.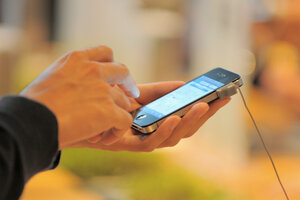 Newscom
And Apple iPhone 4 antennagate rolls onward.
Back in July, at the peak of Death Grip mania, Consumer Reports announced that it was unable to recommend the iPhone 4. When the handset is held on the left side, signal quality is "significantly" degraded, Consumer Reports staffers wrote in a widely-read review, suggesting that users consider "cover[ing] the antenna gap with a piece of duct tape or another thick, non-conductive material. It may not be pretty, but it works."
Today, the magazine staff said they would not change its recommendation on the iPhone 4, and added that the bumper case program was only a stop-gap – not a permanent fix for a permanent problem. "But putting the onus on any owners of a product to obtain a remedy to a design flaw is not acceptable to us. We therefore continue not to recommend the iPhone 4, and to call on Apple to provide a permanent fix for the phone's reception issues," staffers wrote.
---