Fuel-efficient cars offer great deals, depending on how you drive
(Read article summary)
Fuel-efficient cars carry verdant pros, and pricey cons.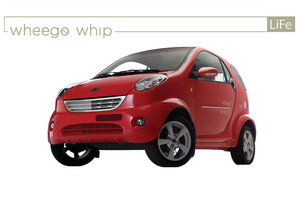 Wheego.net
How much do fuel-efficient cars cost these days? Try $18,995 – add a bit for air conditioning, subtract some after tax credits.
That's the price tag for a 2010 Wheego Whip, currently the cheapest highway-capable, all-electric vehicle, according to its manufacturer. And unlike many of the more-publicized ultra fuel-efficient cars, the Whip is available now. For sale in California, Massachusetts, and 15 states in-between, the boxy, battery-operated two-seater requires no gas and releases zero tailpipe emissions. Plus, the car's battery can be charged using a standard household outlet.
The pros are obvious: The Whip helps drivers wean America off foreign oil and does not pollute the environment directly (of course, charging it up carries some carbon footprint). The big cons: The car takes eight hours to charge; and at full capacity, the battery only lasts for 40 miles.
Despite the negatives, Stephen Russell, a program coordinator of the Massachusetts Clean Cities coalition, says electric cars are "absolutely" part of our future.
Consumers ready to spend $26,495 (after tax credits) can purchase Wheego's souped-up 2011 Whip LiFe. With its more powerful battery, the LiFe can go approximately 100 miles on a single charge, according to Wheego. The longer-lasting battery takes five hours to charge.
The similarly featured Nissan Leaf ($26,220 after tax savings) will go on sale in parts of the West Coast in January and elsewhere in July.
Working a booth at this week's "Carbon Day" electric vehicle showcase in Boston, Mr. Russell told attendees, including a group of too-young-to-drive grade school students, about the benefits of alternative transportation. A few tables down, a white Wheego Whip was on display.
---