Chocolate genome could unlock tastier, healthier candy
(Read article summary)
Chocolate genome may hold secrets for better sweets. That's why Mars and Hershey have spent millions to crack the code.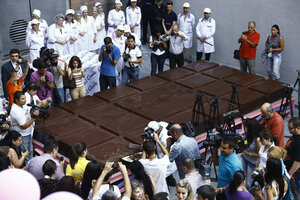 Newscom
Scientists are hard at work analyzing the chocolate genome, the genetic code behind the cocoa tree, which they hope could one day make candy bars taste better, cost less, and maybe come guilt free. This month marks a major step forward for their research.
Two rival coalitions each claim to have nearly finished decoding the chocolate genome.
Mars, maker of M&M and Snickers, dedicated $10 million to this goal two year ago. Teaming up with the U.S. Department of Agriculture and tech giant IBM, the confectioner announced earlier this month that it had cracked more than 92 percent of the genome. Their work is available for free at the Cacao Genome Database, a clearinghouse set up by Mars to aid chocolate research.
"This will help guarantee a sustainable future for cocoa for the farmers, the consumers and Mars Inc.," Howard-Yana Shapiro, the head of plant research at Mars, told the New York Times.
---