Back to the Mac event: What does Apple have on the agenda?
(Read article summary)
Apple has scheduled a "Back to the Mac" event for October 20. Let the guessing game begin.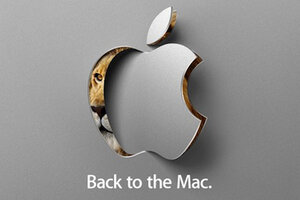 Apple
This week Apple sent out invites to an October 20 event dubbed "Back to the Mac." Few details are forthcoming, although when it comes to Apple events, details are no obstacle – the rumor mill is already running at full tilt. Let's run through a few of the more intriguing prognostications.
As Troy Wolverton of the Mercury-News notes, the invitation for the Apple event features a picture of a lion, which could mean that Apple is prepping some sort of new operating system upgrade. Each previous Mac OS X update has had a big cat as a code name, and Apple has yet to use "lion" as a moniker. It released its last update to the software – Mac OS X 10.6 Snow Leopard – in August of last year," Wolverton writes.
IN PICTURES: Apple's iCandy
---