Smartphones: Is Windows 7 fighting a losing battle?
(Read article summary)
Smartphones with Windows 7 mobile operating system are designed to compete against Apple and Android. But some analysts are wondering whether Microsoft's smartphones strategy is swimming against the current.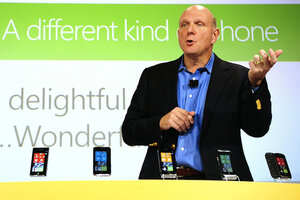 Newscom
In November, Microsoft will launch its Windows Phone 7 – a smartphones operating system that is intended to hurl the company back into a market currently dominated by RIM, Android, and Apple smartphones. Could it work? Depends on whom you ask. Microsoft reps seem optimistic. Tech analysts – well, not so much. After all, Android is growing in leaps and bounds, and Nokia's Symbian is still going strong. (And don't forget about those Apple smartphones.)
Microsoft, says John C. Dvorak of PC Magazine, "is at least two years or more behind the competition and needs to catch up fast if it wants to be in the game." But Dvorak says Microsoft is already stumbling: He calls the decision to launch in the Europe market "somewhat mystifying," and pans a new multi-million-dollar ad campaign that does little to get users excited about the Windows 7 mobile OS.
"[T]he mistakes are already apparent with the Microsoft approach," Dvorak writes in a column published today. "For one thing, it is harping on the idea that the phone should be a device that you use efficiently and you 'get on, get off and get on with your real life' sort of thing. This notion not so subtly says that the phone is simply not that interesting."
---