Is a 4G Verizon iPhone on the way?
(Read article summary)
Verizon is said to be releasing a CDMA-capable iPhone sometime in 2011. And some are speculating that the Verizon iPhone will be a 4G affair.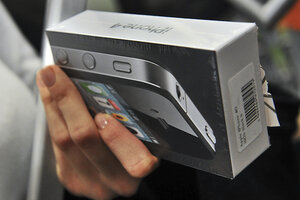 Newscom
Sometime between the recent news morning and today, the tech blogosphere stopped debating if a Verizon iPhone was on the way, and started debating what that Verizon iPhone might offer the masses. Would a Verizon iPhone include some kind of hardware or software fix for the flawed antenna – the original cause of Death Grip mania? Or better yet, will the Verizon iPhone be a 4G-capable handset?
This last bit of rumor was floated Friday by the Wall Street Journal, which published the report that reignited the Verizon iPhone maelstrom. "If Verizon starts offering an iPhone usable only on its 3G network, Apple's handset will be at a disadvantage to rival 4G phones," reporter Martin Peers writes in a speculative WSJ piece today. "What's more, users may find they get slower speeds than they would with the iPhone on AT&Ts network."
IN PICTURES: Apple's iCandy
---