Verizon iPad: What's next for Verizon and Apple?
(Read article summary)
Verizon iPad breaks the AT&T stranglehold, sort of. The new deal between Apple and Verizon is something of a hack, but it's an official hack.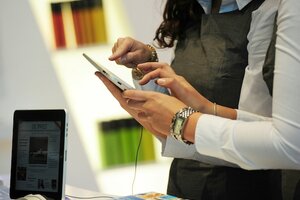 Newscom
Verizon iPad! Well, it sure beats the endless Möbius strip of Verizon iPhone rumors.
And this Verizon gossip has the distinct advantage of being, you know, true. Earlier today, Verizon announced that it would soon begin to sell Apple iPad tablet computers at more than 2,000 Verizon outlets around the country. Crucially, the Verizon iPad won't run on Verizon's 3G network. Instead, iPads sold by Verizon will be bundled with Verizon's MiFi mobile hotspot modem, which turns cellphone signals into Wi-Fi. Since these MiFis have been around for some time now, you could have owned a "Verizon iPad" all along. The carrier is simply making it that much easier by selling the two devices together.
Price-points vary: $629.99 will get you a 16GB iPad with MiFi, while $729.99 will get you a 32GB iPad with MiFi. Verizon will charge $829.99 for a 64GB model with MiFi; monthly access plans will start at $20 per month for up to 1GB of data. "In addition, Verizon Wireless will also offer all three iPad Wi-Fi models on a stand-alone basis," Verizon reps wrote in a statement. The launch date for the Verizon iPad is Friday, Oct. 28.
---