MacBook Air review roundup
(Read article summary)
MacBook Air review posts are rolling in. The thin laptop was due for an update. So what are the critics saying about the sleekest Apple laptop?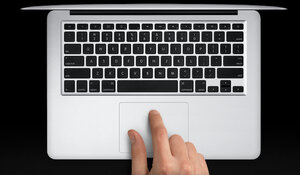 Apple
On Wednesday, Apple unveiled a range of new products: a new operating system called Lion, an App Store for Mac OS X widgets, and FaceTime on the Mac. But perhaps the most hotly-followed announcement concerns an update to the MacBook Air laptop, which had remained relatively unchanged since its launch in 2008. So what are critics saying about the new MacBook Air?
Good things, mostly. Over at TechCrunch, MG Siegler confesses that the latest iteration of Air fulfills his every need. "After using it pretty much non-stop for the past 7 hours or so, I'm happy to report that I couldn't find one task in my regular routine that the Air wasn't able to handle with ease," Siegler writes. "I did some work, I did some regular browsing, I edited some pictures, I played some videos, etc."
"To be honest, it makes me feel a little silly," Siegler continued. "Why on Earth have I been lugging around a machine that's twice as heavy if I didn't need it? I'm not sure. The lure of the 2.8 GHz i7 chip, 8GB of RAM, and dual graphics cards got to me, I guess. But I really don't need that. And I'm sure most people don't either."
---