Skyfire iPhone app: Gone from iTunes, but for how long?
(Read article summary)
Skyfire iPhone app has been pulled from the Apple iTunes store amid a surge of consumer demand. Skyfire reps said they were working to increase server capacity.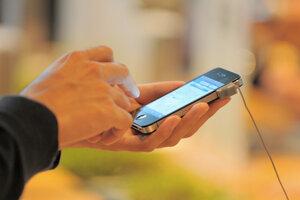 Newscom
Well, that was quick. Just a day after launch, Skyfire – a mobile Web browser which lets users perform an end-run around the Apple iOS ban on Flash – has been yanked off iTunes, amid an apparently overwhelming burst of consumer demand. In a post to the company blog, Robert Oberhofer, the director of product management at Skyfire, said the Skyfire app would be "sold out" until the company could get its "capacity in line with the incredible demand."
"Skyfire for iPhone has been received with unbelievable enthusiasm. Despite our best attempts and predictions, the demand far exceeds our initial projections," Oberhofer wrote. "The user experience was performing well for the first few hours, but as the surge continued, the peak load on our servers and bandwidth caused the video experience to degrade."
---