Android 2.1 tablet from Sylvania undercuts Apple, Samsung on price
(Read article summary)
The new Android 2.1-powered tablet from Sylvania sells for under $150, far less than the Apple iPad and Samsung Galaxy Tab. But is it any good?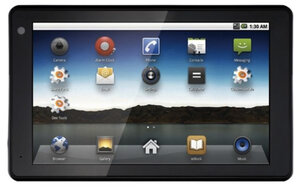 Kmart
Android 2.1. Tablet. Under a hundred and fifty bucks.
Sylvania is hoping those three key points will be enough to lure consumers to their new Android tablet, which is currently selling at Kmart for $150 – and will soon be selling at Toys R Us for $140. Interestingly, at least on paper, the MID Tablet Wireless Mobile Internet Device, as Sylvania is billing this thing – someone get a branding consultant over there, stat – doesn't look too shabby.
The device gets 512MB RAM, 2GB of flash memory, a claimed six hours of battery life, a 7-inch screen, and Android 2.1 capability. "Compact and ultra-light with a touch screen puts all your web browsing at your fingertips," reads the clunky ad copy on the Kmart site. Still! This is a tablet computer, that costs about the same amount as an Amazon Kindle.
These, of course, are exciting times for tablet connoisseurs. The market is currently dominated by the Apple iPad. (Which, incidentally, recently began selling at Verizon stores nationwide.) But Samsung recently introduced the Android-powered Galaxy Tab – the tablet has received some high marks from reviewers – and RIM is poised to release the BlackBerry PlayBook sometime in early 2011.
---