iPhone 4 envy: 34 percent of consumers would switch to Apple, if their carriers allowed it
(Read article summary)
The Apple Phone remains exceptionally popular among consumers, according to a new survey by ChangeWave.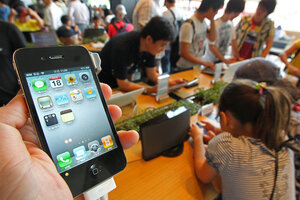 Newscom
iPhone 4 death grip? Forgotten. Spotty reception? Over it. According to a new poll by the research firm ChangeWave, a whopping 77 percent of iPhone owners are "very satisfied" with their handsets. That figure easily bests the 71 percent of Motorola owners happy with their phones – and towers over the 44 percent of RIM owners who considered themselves "very satisfied" with their BlackBerry smartphones.
The ChangeWave poll, which surveyed 1,212 new smartphone owners, also provided new insight into a particularly relevant question: How eager are non-AT&T customers to get their hands on an iPhone? The short answer: Very. ChangeWave says that 34 percent of consumers would have opted for an iPhone instead of a different smartphone, had it been available through their carrier.
---