Is an Apple iPad 2 on the way?
(Read article summary)
An iPad 2 could hit shelves as early as next year, according to at least one source.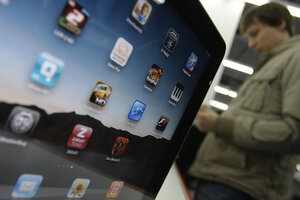 Newscom
An Apple iPad 2 will go into production beginning in December – and hit shelves as soon as Q1 of 2011. That's the news this week from Economic News Daily, an English-language Taiwanese paper. According to News Daily staff, the new iPad will include FaceTime functionality, fresh display tech, a pair of cameras – one forward-facing – and a USB port.
As Dan Nystedt of IDG News points out, there is reason to trust the News Daily report.
"Taiwanese newspapers," Nystedt writes, "sometimes win scoops on new electronics products because Taiwanese companies are involved in every aspect of electronics production, from components to final assembly. For example, the Economic Daily says that Largan Precision will supply camera lenses for the new iPad, while Hon Hai Precision Industry, which operates under the trade name, Foxconn, will be responsible for final assembly."
---