Do Not Track list: How would it work?
(Read article summary)
Do Not Track list becomes a hot topic this week in Washington, as legislators discuss not just if it's a good idea but how such a list would work.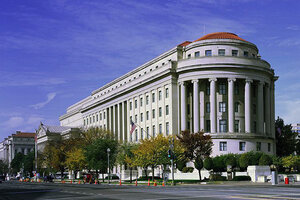 When the Federal Trade Commission proposed a computer "Do not track" list this week, the group compared it to the popular "Do not call" list that governs sales calls. Americans should be able to fend off marketers, the commission said, whether they're calling during dinner time or tracking your online purchases and Web history.
But a "Do not track" list will be significantly more complicated to put in place, argued many in Washington yesterday. And imposing such a privacy mechanism may stunt the growth and quality of free content online.
"We need to be mindful not to enact legislation that would hurt a recovering economy," Rep. Ed Whitfield, a Republican from Kentucky, told the New York Times. He sits on the House Subcommittee on Commerce, Trade, and Consumer Protection, which discussed the FTC's idea Thursday. "While I agree it is important to have consumers understand what information is being collected and how it is used, we need to seriously discuss the do-not-track model and evaluate whether it accomplishes the appropriate objectives."
---