Angry Birds to feature Bad Piggy Bank in-game payment system
(Read article summary)
Angry Birds developer Rovio will soon allow fans to purchase upgrades and power-ups with the click of a button (or the tap of a finger).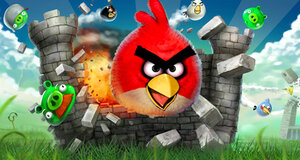 Rovio
Angry Birds – the wildly popular handheld game starring an army of ticked-off avians and their porcine foes – is getting a new in-game payment system. According to Rovio, the creators of Angry Birds, the new system, dubbed Bad Piggy Bank, will allow users to upgrade or purchase new items and levels with one tap of the finger. Crucially, Bad Piggy Bank will not require users to have a credit card – the in-game charges will be applied directly to their phone bill.
"This gives operators some revenue, compared to none. We are going to open it up to all other developers," Peter Vesterbacka, head of Rovio's business development in North America, told Reuters today. Bad Piggy Bank is expected to be rolled out early next year. Although Rovio did not specify what exactly users would be paying for, it's safe to assume Rovio will be creating some levels and power-ups in the future, some of which would cost hard cash.
Angry Birds has been one of the great runaway hits of 2010, partly because it is so cheap – a buck on iTunes and it was free on Android – and partly because the game model is so intuitive and enjoyable. "People like to be entertained," Carl Howe, a director at tech research firm Yankee Group, told the Monitor earlier this year. "We think of ourselves as being overworked and busy all the time, but the reality is that we have lots of little nooks and crannies in our day."
---