OpenLeaks: Is the next WikiLeaks already in the works?
(Read article summary)
OpenLeaks is reportedly a 2.0 version of WikiLeaks – except OpenLeaks will be 'democratically' controlled, supporters say.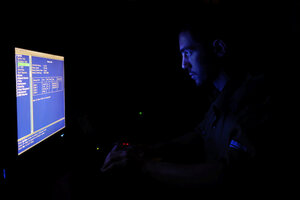 Newscom
WikiLeaks is under siege – MasterCard, Visa, PayPal, and Amazon have all severed ties with the controversial organization in recent days, and WikiLeaks founder Julian Assange is currently being held in a London prison, awaiting word on whether he will be extradited to Sweden, where he would face questioning over sex-crime allegations. In the meantime, many supporters have created hundreds of mirror sites, in an effort to prevent WikiLeaks data from being scrubbed from the Web.
But mirror sites are essentially just a temporary fix, not a longterm strategy. Enter the team behind OpenLeaks, a site which is expected to go live on Monday. According to the Swedish newspaper Dagens Nyheter, OpenLeaks is essentially a 2.0 version of WikiLeaks, run by a team of former WikiLeaks team members. The difference: OpenLeaks would be "democratically" controlled by a board of volunteers.
---