Facebook raked in $2 billion in 2010: report
(Read article summary)
Facebook is reportedly a cash cow. So much for the supposed inability of the social network to turn a substantial profit.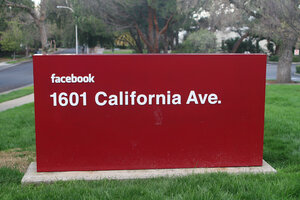 Newscom
Facebook – a site long considered to be tricky to effectively monetize – raked in approximately $2 billion in ad sales in 2010, according to the team at Bloomberg News. Quoting several anonymous sources, Bloomberg reports that the 500 million Facebook users have proved an especially alluring target for a range of corporate giants, including Coca-Cola Co., JPMorgan Chase & Co. and Adidas AG.
From the Bloomberg report:
Sales will more than double from 2009, said the people, who declined to be identified because the privately held company doesn't disclose revenue. Facebook had $700 million to $800 million in sales last year, and the 2010 figure was previously expected to be closer to $1.5 billion, according to two other people familiar with the matter earlier this year.
Facebook has been everywhere this year – on the big screen, in the form of "The Social Network"; on bookshelves, in the form of "The Accidental Billionaires"; on the front of Time magazine, which recently named Facebook CEO Mark Zuckerberg the person of the year. No surprise there: Zuckerberg has presided over the astounding growth of the most popular social network in history.
---