iPad nothing more than an oversized Apple iPhone: Motorola
(Read article summary)
The iPad is just 'like a giant iPhone,' Motorola jokes in a new advertisement for its forthcoming tablet.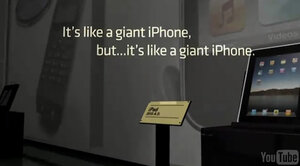 Newscom
The Apple iPad is nothing more than a giant iPhone, according to a new spot for the forthcoming – and as of yet untitled – Motorola tablet. Let's see: Apple iPad as oversized Apple iPhone? Yep, we've heard that one at least a few times before. (Video from Motorola tablet advert below.)
But extra points to Motorola for the execution of the advertisement, which takes place in a museum, and follows the evolution of the tablet, from Egyptian hieroglyphic tablet ("good graphics, but weight makes for difficult portability") to the Rosetta Stone ("multi-lingual support but low-resolution screen").
Near the end of the advert, the camera pans over the Apple iPad. "It's like a giant iPhone.... but it's like a giant iPhone," reads the banner copy. (Motorola also takes its shots at the Samsung Galaxy Tab, which is described as having "Android OS, but Android OS for a phone.")
---