Is Facebook headed to China?
(Read article summary)
Facebook CEO Mark Zuckerberg visited the offices of a popular Chinese search engine on Monday, prompting speculation that Facebook is eyeing business opportunities in mainland China.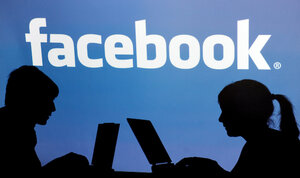 Newscom
On Monday, Facebook CEO – and person of the year – Mark Zuckerberg toured the offices of Baidu, the most popular search engine in China, prompting speculation that Facebook will soon begin a push into the Chinese market. Makes sense. After all, as Zuckerberg himself reportedly asked back in October, "How can you connect the whole world if you leave out 1.6 billion people?"
For now, however, reps for both Facebook – which is banned in mainland China – and Baidu are staying mum. "C'mon people. Robin and Mark have known each other for a while," Baidu spokesman Kaiser Kuo wrote today on Twitter, referring to Robin Li, the CEO of Baidu. "Mark's interest in China is well known. Keep the speculation in check." Not that anyone was listening to Kuo.
The Atlantic has compiled a nice little round-up of analysis on a possible Facebook expansion into China, including a Tim Bradshaw piece posted to the Financial Times site, which argues that China is the next step in the puzzle for Zuckerberg. Others disagree.
---