Worldwide Skype outage highlights dependence on VoIP
(Read article summary)
A Skype outage Wednesday cut millions of users' connection to the popular worldwide network.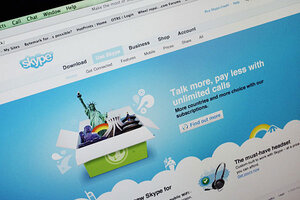 Paul Sakuma/AP/File
For some, it was like having their phone service cut for the better part of the day. Companies and individuals who rely on Skype lost their long distance and video chat access for much of the day, Wednesday.
The popular VoIP program depends on "supernodes" to connect users with the network and each other. On Wednesday morning, large numbers of these supernodes went down, preventing many users from logging onto the Skype network.
Telephone outages are local; this was a worldwide disruption. The Luxembourg company connects 25 million users from all over the world simultaneously at any given moment. So it was no surprise that social networks and blogs immediately started discussing the outage. Twitter has become a known go-to source for the online community to find out about network problems with services like Facebook, Gmail, and Skype.
---