Verizon iPhone? Check. Sprint and T-Mobile iPhone? Maybe.
(Read article summary)
A Sprint or T-Mobile iPhone could be closer than you think.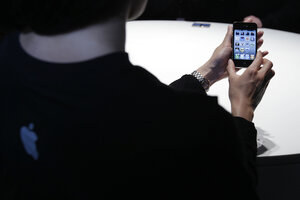 Newscom
So the Verizon iPhone – subject of so much gossip and speculation – is finally a done deal. But what about a Sprint iPhone? Or a T-Mobile iPhone?
Both might be closer than you think. As Neil Hughes of Apple Insider notes this afternoon, Apple exec Tim Cook has said that his company's deal with Verizon is "multi-year" and "non-exclusive," which effectively leaves the door open for other carriers to hop on the iPhone bandwagon, including T-Mobile and Sprint.
The details break down like this: Sprint, like Verizon, is a CDMA carrier, meaning that it would be relatively easy for Sprint to crank out its own iPhone 4, providing it could strike a deal with Apple. (And this is a big "if" – think about how long it took Verizon to get the iPhone.) A T-Mobile iPhone, on the other hand, would be a trickier proposition.
---