Egypt reopens Internet, Facebook access
(Read article summary)
Facebook and Twitter are up and running again in Egypt, as are the URLs of several important Egyptian sites.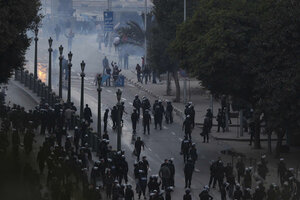 Newscom
Egypt has signed back online, after a week of widespread Web blackouts. According to the monitoring firm Renesys, a range of important Egyptian URLs are now reachable, including the sites for the US Embassy in Cairo, the Egyptian Stock Exchange, and the Commercial International Bank of Egypt. In addition, as of this afternoon, Renesys was reporting that Twitter and Facebook are once again accessible from inside Egypt.
"The rebooted Egyptian table is smaller than it was a week ago, but that's mostly because of a normal process called 'reaggregation' (the deletion of very small, specific customer routes that are partially or totally redundant with existing announcements, generally for purposes of traffic engineering)," James Cowie of Renesys wrote today. But he said the smaller routing table "was to be expected."
RELATED: An Iran-style outcome for Egypt? Why there are key differences.
---