Angry Birds Rio: New levels with a new look
(Read article summary)
Angry Birds Rio, a sequel of sorts to the original Angry Birds, is expected to launch next month. Angry Birds Rio is a tie-in to a forthcoming movie from Fox.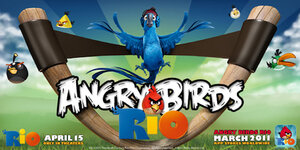 Rovio
Angry Birds, the spectacularly popular downloadable video game, will soon get a sequel of sorts, entitled Angry Birds Rio.
According to Rovio, the company behind Angry Birds, the latest entry in the franchise will be a tie-in to the upcoming animated flick Rio, which – yes – also stars a bunch of birds. But don't expect your typical hastily-prepared movie merchandise: Rovio says the game will launch with a full 45 levels, and allow users to add more levels via in-app updates.
ALSO SEE: Angry Birds cartoon on the way
In a press release announcing Rio, Rovio exec Mikael Hed said his company "had taken the concept of combining a mobile application and motion picture promotion to an entirely new level." Right. Well, at any rate, it sure will be cool to get some more Angry Birds levels! We beat our iPhone edition of Angry Birds about 30 times over.
---