Verizon iPhone review roundup
(Read article summary)
Verizon iPhone review scores have centered on the stellar voice service. But, really, it's the same ol' iPhone.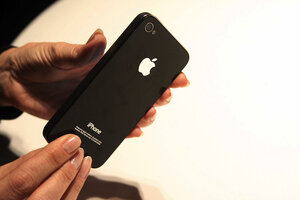 Newscom
The Verizon iPhone launches next week, after months and months of rumors and backbiting, which means it's about time for the tech blogosphere to start speculating about the iPhone 5, or whatever other quasi-mythical device Apple has in the pipeline. In the meantime, the first Verizon iPhone reviews have started to trickle in – and guess what? They're very, very positive. So let's go to the scorecards.
"Switching from an AT&T iPhone to a Verizon iPhone is like finally being able to breathe clearly after years of battling allergies," writes Brian X. Chen of Wired. "People can hear you better, and you can hear them better. It's that simple. That's the key reason so many people have clung to Verizon while resisting the shiny allure of the iPhone. As we all suspected would be the case, the iPhone is a better phone on Verizon than it is on AT&T."
---