HP TouchPad tablet to ship by summer of 2011
(Read article summary)
TouchPad, the new tablet computer from HP, will run webOS, an operating system originally developed by Palm.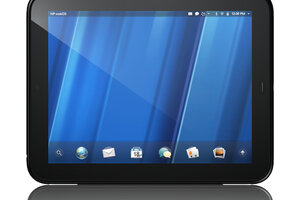 HP
HP will soon roll out a tablet device called the TouchPad, and if early reports are any indication, the TouchPad could be a worthy rival to the Apple iPad. In fact, the TouchPad looks a lot like the iPad, from the 1.5 pounds weight to the 9.7-inch screen. But unlike the iPad, the TouchPad runs the Palm webOS, which has consistently garnered rave reviews from critics – and which HP hopes will give the TouchPad a leg-up over the iPad.
Among the other niceties included on the TouchPad is a Qualcomm Snapdragon processor, internal stereo speakers, a front-facing 1.3-megapixel webcam, and (like the iPad) a light sensor, accelerometer, magnetometer, and a gyroscope."
RELATED: iPad 2 reportedly enters production
"TouchPad is more than just a pretty face," HP senior vice president Jon Rubinstein said at an event in San Francisco this week. "The TouchPad is all about you – how you work, play, and connect with the things you value most." As the AFP notes, HP's recent acquisition of Palm had everything to do with the Palm webOS, which many analysts believe HP will use to wade further into the growing tablet market.
---