iPad 2 reportedly enters production
(Read article summary)
iPad 2 – a refreshed version of the popular Apple tablet computer – is already in production, according to one new report. Cue the iPad 2 countdown.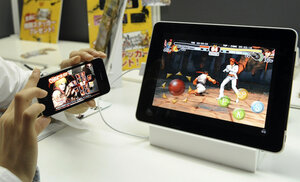 Newscom
IPad 2 – or whatever the heck Apple is going to call its refreshed iPad computer – has already entered production, according to a new report.
Writing in the Wall Street Journal, reporters Yukari Iwatani Kane and Shayndi Raice reveal that Apple is already manufacturing a new edition of the iPad, which will "debut in the next couple of months at a similar price range as the current iPad." Somewhere in the $500 to $800 range, in other words, depending on whether users want 3G or just Wi-Fi capability.
Kane and Raice allege that the iPad 2 will be sold by both Verizon Wireless and AT&T – which matches up with an earlier item about a Verizon iPad 2 – widening the reach of the device. As the Journal notes, the original iPad has been a smash hit for Apple, to the tune of 14.8 million units shipped in less than a year. IPad sales currently constitute 17 percent of Apple's overall revenue, a pretty amazing figure, no matter which way you slice it.
---