Smaller iPhone reportedly designed by Apple
(Read article summary)
Smaller iPhone is in the works, one news agency has reported.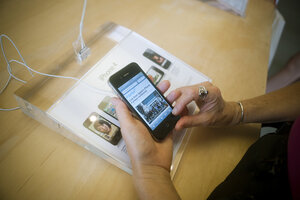 Newscom
Apple is expanding its line of handsets to include a smaller, cheaper iPhone, Bloomberg reports today. Apple, for its part, is declining to comment on the rumor – which was sourced by Bloomberg to a couple of anonymous insiders.
The move would make sense. Apple's biggest competitor these days is Android, the extremely popular mobile operating system developed by Google.
And as we noted back in January, shipments of Android smartphones totaled 32.9 million in Q4 of 2010, enough to best even Nokia's Symbian, long king of the smartphone market. (This week we learned Symbian is basically no more. But that's a different story.) By comparison, Apple shipped 16 million handsets in the same time period – not shabby, but not exactly gangbusters, especially as compared to Android.
---