HTC Flyer mixes iPad looks with stylus controls
(Read article summary)
HTC Flyer is just another tablet. With a twist.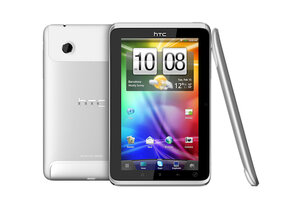 HTC
HTC took the wraps off its new Flyer tablet computer this week at the Mobile World Congress in Barcelona, and if early reports are any indication, HTC could have a hit on its hands. The HTC Flyer – no word on release date or price – will likely ship with a 1.5GHz processor, Android 2.4 Gingerbread OS, a high-resolution screen, Bluetooth and Wi-Fi antennas, and a pair of cameras, including a 1.3-megapixel webcam.
Most intriguingly, the HTC Flyer will also get a stylus and an application called Scribe, which will apparently let would-be artists – and quasi-Luddites – sketch or jot down notes the old-fashioned way.
Tablet computers, of course, are a dime a dozen these days. It seems like every tech company under the sun is scrambling to dive into the market currently dominated by the Apple iPad. But is that a good thing for consumers? In an interesting piece over at Slate, tech columnist Farhad Manjoo worries that as the number of tablets proliferates, the lack of inter-device compatibility could become more of a problem.
---