Borders store closing list includes outlets from east coast to west
(Read article summary)
Borders has filed for Chapter 11, and hundreds of outlets across the country have been placed on the chopping block. But don't worry: Even if your local Borders is on the closing list, your Kobo will continue to work just fine.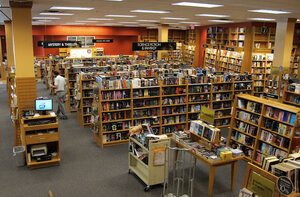 Newscom
The Borders Group has filed for Chapter 11 bankruptcy protection, and thousands of Borders outlets around the country will soon be shutting their doors. That's the news this week from Borders HQ, which blamed a harsh economy and a harsher market for old-fashioned books. (Read: the incredible success of Amazon and e-readers such as Kindle.)
"Because of the ongoing impact of the difficult US economy, coupled with the rapidly changing bookselling environment, we must restructure Borders and reposition our business for long-term success," Borders president Mike Edwards wrote in a letter to Rewards customers this week. "We determined that the best path for Borders to have the ability to achieve this reorganization is through the Chapter 11 process, which Borders commenced February 16."
---