Windows Phone 7: Is Verizon getting in on the act?
(Read article summary)
Windows Phone 7 software will soon power a Verizon Wireless handset, several outlets are reporting.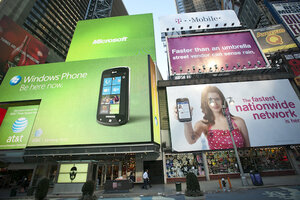 Newscom
Windows Phone 7 handsets are spreading fast – AT&T, Sprint, and T-Mobile are all selling phones equipped with the new Microsoft OS. And now it looks as if Verizon is going to get in on the Windows Phone 7 act. Earlier today, Engadget posted a hi-res photograph of what appears to be an HTC 7 Trophy, kitted out with the Windows OS, and apparently running on the Verizon network.
Could it be a fake? Maybe. But several similar stories have cropped up around the Web this week, all of which point to an early March launch for a Verizon-powered HTC 7 Trophy. (Up until now, Verizon was the only major carrier not to sell a Windows phone.) Over at WinRumors, Tom Warren says Verizon would sell the HTC 7 Trophy for $200 with a two-year contract – standard subsidized cost for a smartphone these days.
ALSO SEE: The 10 weirdest uses for a smartphone
---