iPad 2: How does the new Apple iPad compare to the original?
(Read article summary)
iPad 2 should hit store shelves early this month. We take a look at the numbers and specs on the Apple iPad 2.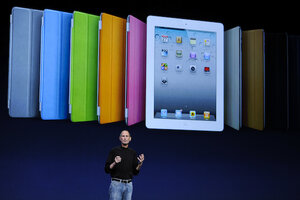 Newscom
Oh, hey, look at that. After months of prognostications and rumor-mongering – some of it conducted right here on the Horizons blog – Apple has trotted out a shiny new tablet computer called the iPad 2. (Personally, we were hoping for something a little more exciting than "iPad 2," but we are more than willing to admit that branding is not our strong suit – and besides, "iPad 2" works just fine. It's utilitarian!)
So what does the iPad 2 have that the original iPad did not? Well, for one, it's smaller: 33 percent thinner than its predecessor and just a smidge lighter. (The iPad 2 weighs 1.3 pounds and the first iPad weighed a-not-exactly-chunky 1.5 pounds.) Meanwhile, the iPad 2 gets a pair of cameras – one rear-facing and one front-facing for FaceTime chat – and a gyroscope, just like the iPhone 4, which should improve gaming capability.
---