iPad 2 review roundup
(Read article summary)
The iPad 2 reviews are in. And guess what? The critics are besotted.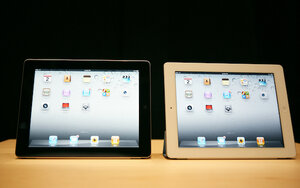 Newscom
The iPad 2 – the successor to the fantastically popular iPad tablet computer – hits stores tomorrow, and as is usually the case with the launch of an Apple device, the critics are salivating. In fact, it's pretty much a drool fest out there, so before we dive into the iPad 2 review roundup, you'd better grab an umbrella. Off we go....
The body: "Apple shaved 0.17 pounds off the Wi-Fi version and 0.26 to 0.27 pounds off the 3G version," writes Jason Snell of PC World. "The iPad 2 is also 0.16 inches narrower, 0.06 inches shorter, and 0.16 inches thinner than the original iPad. A matter of small degrees, to be sure, until you consider the percentage change: The iPad 2 is roughly two-thirds the thickness of the original iPad, and 88 percent of its weight (83 percent when comparing 3G models). Pick up an iPad 2 after handling an original iPad, and you'll notice the difference right away. This is a lighter, thinner device."
---