Porsche Spyder 918: The new king of the hybrid car heap?
(Read article summary)
Porsche Spyder 918 hybrids are available for pre-order. But you better make sure you've got some cushion in the old bank account. The Porsche Spyder ain't cheap.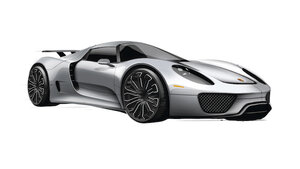 Newscom
Porsche has begun taking orders for the Spyder 918 – a hybrid sports car equipped with a 500-horsepower V8 engine and enough curves to make a Prius owner green with envy. (Excuse the pun.) Company reps say the Porsche Spyder 918 goes from 0 to 62 mph in 3.2 seconds; all that power comes from the V8, and also a 218-horsepower electric drive system, which can be fully recharged in three hours.
Photos above. Video below. Other details: Top speed of around 200 miles an hour; first production cycle expected to begin in 2013. So far, so good. But before you start drooling, consider this: The Porsche Spyder 918 hybrid will sell in North America for $845,000 – the highest price tag ever placed on a Porsche car, according to Bloomberg. (Perhaps for that reason, the Spyder 918 will be limited to an initial run of 918 units.)
ALSO SEE: Luxury car glitches: Which of these Top 10 most expensive cars have been recalled
---