Amazon app store: Not so fast, says Apple
(Read article summary)
The Amazon app store launches with an Angry Birds Rio giveaway. But Apple – the manufacturer of a different App Store – has filed suit in federal court, seeking to prevent Amazon from using the app store appellation.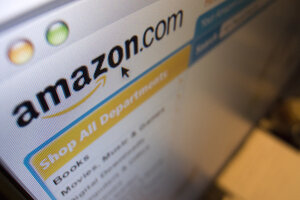 Newscom
Amazon today took the wraps off its app store, an online marketplace devoted to Android applications. Amazon Appstore – try not to confuse that with the Apple App Store – opens with a lot of cool features, including something called Test Drive, which lets users try out apps on a faux-Android screen before forking over any cash. In an effort to drum up interest in the Appstore, Amazon is releasing a paid app every day for free. The first of the bunch? Angry Birds Rio.
That game, which was first announced back in February, is a tie-in to an upcoming animated flick called "Rio." Angry Birds Rio features a full 45 levels; there is the option to add more levels via in-app updates. If you don't have an Android-equipped phone, fret not – Angry Birds Rio is available on the iPhone and iPod Touch for a buck and on the iPad and iPad 2 for $3. Trust this Angry Birds fan on this front: The game is probably worth the dollar investment.
---