Apple axes 'gay cure' iPhone app
(Read article summary)
After originally approving the 'gay cure' software, Apple has now given the thumbs down to an application developed by the Christian ministry Exodus International.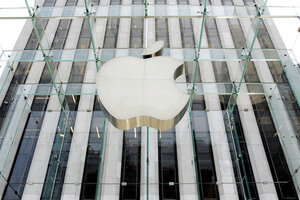 Newscom
After weeks of protest – most of it conducted online – Apple has pulled from the iTunes store a controversial piece of software known as the "gay cure" app.
The free application was created by the Christian ministry Exodus International, which describes itself as "helping those struggling with unwanted same-sex attraction to live a life congruent with biblical teaching." Apple had originally given the application – also called Exodus International – a 4+ rating, denoting that the app contained no "objectionable content."
But the Exodus International app was widely condemned, and a petition seeking to have the app removed quickly drew upward of 150,000 signatures. "Apple needs to be told, loud and clear, that this is unacceptable," the petition read. "Stand with Truth Wins Out -- demand that the iTunes store stop supporting homophobia and remove the Exodus app."
ALSO SEE: Verizon iPhone versus AT&T iPhone – the top three differences
---