Nintendo 3DS review roundup
(Read article summary)
Nintendo 3DS hits store shelves this week. We take an early look at the reviews.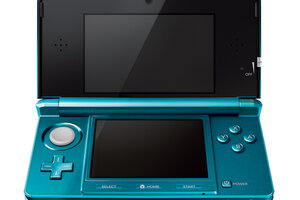 Newscom
The Nintendo 3DS – the first handheld gaming console to utilize glasses-free 3D technology – hits store shelves this week, and already Nintendo is forecasting a blockbuster launch. So what do the critics have to say? In short, reviews have praised the 3D tech on the new device, questioned the $250 sticker price, and lambasted Nintendo for skimping on the battery life. Let's go to the scorecards.
The hardware
"The 3DS is a sleek, stylish gadget, about the same size as the best-selling Nintendo DS Lite and DSi," writes Winda Benedetti of MSNBC. "It's got that smart Nintendo DS clamshell design with the top screen being the one that shows off the 3-D images and the bottom screen being the touch screen. The top screen is larger than the older-model Nintendo DS Lite or DSi screens at 3.53 inches and the bottom screen is 3.02 inches. The 3DS also has three cameras — two of which are designed to let you take your own 3-D pictures. And it has a Circle Pad, which is a much-appreciated analog stick for game control."
---