Verizon iPhone drops fewer calls than AT&T iPhone: report
(Read article summary)
Verizon iPhone users report similar levels of satisfaction than their counterparts at AT&T. But only one iPhone drops an average of 4.8 percent of all calls.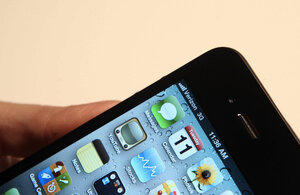 Newscom
Verizon iPhone users see far fewer dropped calls than their counterparts on the AT&T network, analytics firm ChangeWave reported today. Although Verizon iPhone customers and AT&T iPhone customers reported similar levels of satisfaction with their handsets – 82 percent to 80 percent were "very satisfied," respectively – AT&T customers reported more than two times as many dropped calls.
The survey collected responses from 4,068 users; Team Verizon reported that an average of 1.8 percent of all calls were dropped, while AT&T put it closer to 4.8. The winner: Verizon Wireless. Still, ChangeWave cautioned that things could change in coming months.
RELATED: Verizon iPhone versus AT&T iPhone – the top three differences
---