Portal 2 review roundup
(Read article summary)
Portal 2 reviews hit the Web today –– and they are very, very good.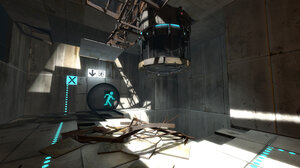 Valve
Portal 2, the sequel to the cult hit Portal, hits a range of platforms this week –– the Mac, the PC, the Xbox 360, and the PS3. Portal 2 brings back Chell and GLaDOS, along with a series of futuristic puzzles. So how does the latest Valve game stack up? Let's turn to the Portal 2 review scores.
The opening shot
"[W]hat really underpins the best games is so often unseen," writes Tom Hoggins of the Telegraph, in a 10 out of 10 review. "The invisible hand of direction that gently guides you into a world so carefully built, introducing you to the lore and mechanics of a game so deftly you barely even notice it. Making sure you know what you're meant to be doing, that you never get lost, and are always looking in the right direction when there's something worth seeing. Portal 2 is the new standard to which this approach is set. It's a work of masterful craft, mechanically constructed with military precision, artistically wrapped in a tremendous story and environment. Most impressively, its achievements feel effortless."
The script
---