PlayStation Network back online? Almost.
(Read article summary)
The PlayStation Network will be back online by the end of the week, Sony reps say. PSN has remained shuttered for almost two weeks.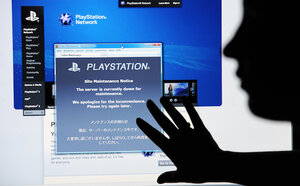 Newscom
It has not been a very good couple of weeks for users of the PlayStation Network, the popular online gaming portal maintained by Sony. Sometime in later April, hackers managed to worm their way into the PSN and Qriocity, a Sony-owned music and video streaming service. To prevent further damage –– and to stem the loss of valuable user information –– Sony shuttered PSN, Sony reps acknowledged in a press conference on Thursday.
So when is the Sony PlayStation Network coming back online? This week, probably. At the same press conference, which was held at Sony HQ in Tokyo, Sony exec Kazuo Hirai apologized to gamers, and promised that the PSN would be live again by Friday. When the network does return, Hirai added, according to eWeek, it will return stronger and safer than ever.
RELATED: See how a video game outsold the top movie, book, and DVD
---