Android tablet Galaxy Tab 10.1 brings Google power to iPad frame
(Read article summary)
Android-based Galaxy Tab 10.1 devices were handed out to attendees of the Google I/O conference this week. The rest of us will have to wait until next month for the hot, new Android tablet.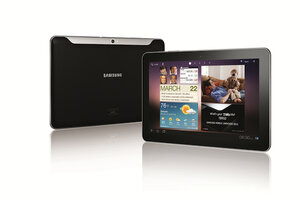 Newscom
The Galaxy Tab 10.1, a next-generation Android tablet from Samsung –– and the successor to the plain old Galaxy Tab –– was handed out to dozens of attendees of the annual Google I/O conference this week. And according to those in attendance, the Galaxy Tab 10.1, which is expected to hit shelves in June, is a top-notch device, and maybe even a worthy rival to the iPad 2. (Video of the new Galaxy Tab below.)
Michael Muchmore, a writer for PC Magazine, was at the conference, and reported that the unveiling of the Samsung Galaxy Tab 10.1 was greeted with "a cry of elation." And it was not unjustified, Muchmore continues: "Most laymen could easily mistake [the Galaxy Tab 10.1] for an iPad 2, but it's a tad lighter at 589 grams (1.3 pounds), and has a larger, higher-resolution 10.1-inch display, at 1,280-by-800, compared with the iPad's 1,024-by-768."
---