Chrome OS-powered 'Chromebooks' introduced by Google
(Read article summary)
Chrome OS laptops by Acer and Samsung will hit shelves next month, Google says.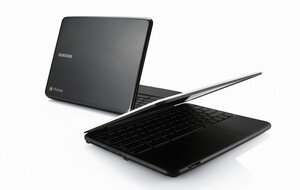 Newscom
Two long years after the introduction of the Chrome OS, Google has rolled out a pair of Chrome-powered laptops –– one built by Samsung, the other built by Acer, and both equipped with 3G capability. The "Chromebooks," as the machines have been unofficially been dubbed by Google, were unveiled at the Google I/O conference this week, and are expected to hit shelves by the middle of next month.
Some details: The Acer Chromebook gets a 12.1-inch screen, 8.5 hours of battery life, and a base price of $429. The Samsung edition will be priced at $349, and include an 11.6-inch screen, with six hours of battery life. (Hat tip to Computerworld.) There are no hard drives to be found on either machine; instead, the Chromebook line runs on flash memory. In short, "these are not typical notebooks," Google exec Linus Upson wrote on the Google blog.
"With a Chromebook you won't wait minutes for your computer to boot and browser to start," Upson continued. "You'll be reading your email in seconds. Thanks to automatic updates the software on your Chromebook will get faster over time. Your apps, games, photos, music, movies and documents will be accessible wherever you are and you won't need to worry about losing your computer or forgetting to back up files." (Video below.)
---