Amazon tablet: Will it be a 'Kindle for movies'?
(Read article summary)
Two Amazon tablets will ship by the end of the year, according to one source. But don't expect another e-reader.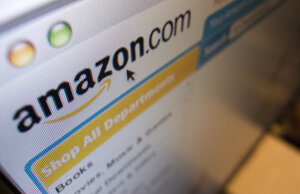 Newscom
The Amazon tablet. Last time we checked in on this (almost certainly) forthcoming device, the word was that the Amazon tablet would run some version of the Android operating system, and ship by the end of the year. Now comes word that not one but two Amazon tablets are in the works – one "entry level" device, and one full-featured tablet.
This courtesy of Boy Genius Report, a tech blog that rarely gets its facts muddled up. The cheaper of the pair is codenamed "Coyote," and is "based on the NVIDIA Tegra 2 platform," BGR says, quoting anonymous sources at Amazon. "The big boy? That's codenamed 'Hollywood' and will be based on the NVIDIA T30 'Kal-El' which will bring a screaming quad-core processor with a 500% performance increase over the dual-core Tegra 2."
In other words, this will be much more than a super-sized Kindle – it will be a serious computing machine.
---