Call of Duty Elite brings social media layer to COD multiplayer
(Read article summary)
Call of Duty Elite, a new social media service from Activision, will launch in November, at the same time as Call of Duty: Modern Warfare 3.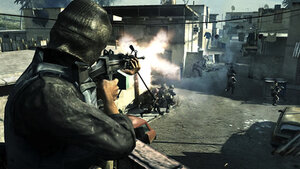 Activision
Call of Duty players have plenty to be happy about these days – the amazing success of Modern Warfare 2, the even more amazing success of Black Ops, and the fall 2011 arrival of Modern Warfare 3, the latest shooter in the storied Activision franchise. But here's a little more icing on the cake, anyway: Pretty soon, Call of Duty players will have their own social media/subscription service called Call of Duty Elite.
Elite, which was first confirmed by the Wall Street Journal – the platform is expected to get a full airing at the E3 conference – is expected to go live at around the same time as Modern Warfare 3 hits the shelves. (In November, in other words.) The thing is a little bit Facebook, a little bit multiplayer gaming lobby: Users will be able to track scores across platforms, compare stats, and join groups or "clans" comprised of like-minded gamers.
---