Why is Apple (finally) offering an unlocked iPhone 4?
(Read article summary)
Unlocked iPhone 4 handsets are available at the American Apple Store. Why an unlocked iPhone now?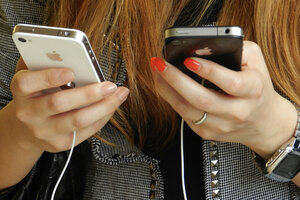 Newscom
Unlocked iPhone 4 handsets went on sale at the US Apple Store website today, and the prices certainly aren't cheap – $649 for the 16GB model, and $749 for the 32GB model. (With a two-year contract, iPhones usually cost $199 and $299.) Black or white. Take your pick. The handsets allow users to tap into any GSM network, which means frequent travelers can now use local carriers when traveling abroad, instead of running up data and voice service fees on foreign networks.
In addition, an unlocked iPhone allows users to opt out of a multi-year contract; the trade-off, according to Computerworld, is that you won't always get a 3G connection. (Instead, you'll get the older EDGE connection.)
Apple, of course, has long sold unlocked phones in plenty of other markets, including Europe, but held off on an US edition. So what prompted the about face? Over at PC World, Sascha Segan evaluates some of the possibilities: The unlocked iPhone is a clear attempt to appeal to international travelers. Apple is trying to make the FCC happy. Or perhaps "Apple has nothing to lose."
---