Wii U will not include DVD player: Nintendo
(Read article summary)
Wii U will likely revolutionize the gaming experience. But the Wii U will not play DVDs.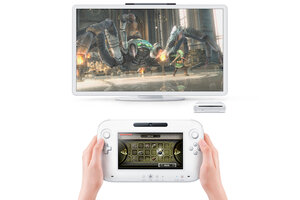 Newscom
Wii U –– it sounds like a university for gaming geeks! Alas, it's just the regular old next-generation video game system from Nintendo, which was unveiled last week at the E3 conference. The Wii U is a very odd beast, to say the least. It essentially operates on two screens, the first screen being your television, and the second being the touchscreen on the motion-sensing controller.
In fact, it's best to think of the Wii U as a gigantic version of the DS, which also used two screens to enhance the gaming experience. For the most part, Nintendo has remained pretty mum on the innards of the Wii U, as well as the list of launch titles, although we do know the launch date itself will be sometime next year. Here's another thing we know for sure: The Wii U won't play DVDs or Blu-Ray discs.
---