Nexus 4G set for fall 2011 launch: report
(Read article summary)
The Nexus 4G is coming, and according to one blogger, it's going to be an 'absolute beast.' Apple, beware.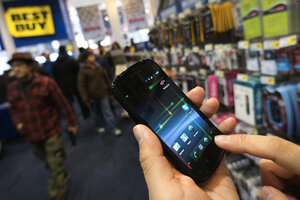 Newscom
Google will release a new Nexus device, possibly called the Nexus 4G, as early as Thanksgiving, according to a new report from the surprisingly prescient folks at Boy Genius Report. BGR's Jonathan S. Geller spoke to some anonymous sources familiar with the Nexus 4G –– again, this may not be what the phone is actually called –– and he says the device, which is expected to ship with a gigantic 720p HD display, is an "absolute beast."
"[W]e can expect a 4G LTE radio, 1GB of RAM, 1080p HD video capture and playback, a 1-megapixel front-facing camera, and a 5-megapixel rear camera," Geller writes. "The 5-megapixel camera, however, is said to be an advanced 5-megapixel sensor delivering class-leading image quality in addition to superior low-light performance. The Google Nexus 4G will run Android 4.0 (Ice Cream Sandwich) and hold everything together in an ultra-thin package."
---