After $35 million sale, MySpace is now an advertiser's space
(Read article summary)
MySpace, once the king of the social media heap, has been sold for a price unthinkable just a few years ago.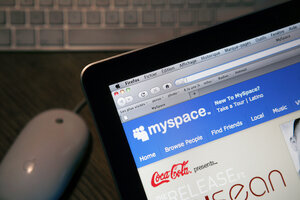 Newscom
Remember what Myspace used to be like back in the day? It was an insanely popular, extremely innovative social network, purchased for almost $600 million by Rupert Murdoch and the rest of the team over at News Corp. And then Facebook picked up some steam, gathered a membership of over 750 million, and generally left Myspace in a big cloud of dust.
Cue corporate shake-ups, lay-offs, and general discontent. (Cue, too, a name change: Eagle-eyed readers will remember that Myspace used to be MySpace – capital M, capital S.) Today comes the news – courtesy of Kara Swisher over at All Things D – that Myspace is being sold to Specific Media, an online ad firm, for a relatively paltry $35 million.
---